Judith Durham one of the greatest singers of all time, for over forty years, she has given us this wonderful voice, she has the most pitch perfect voice, of any female singer. As pure as an angel, which brings tears to my eyes every time I hear her sing, this is her story told in words and photo's
Judith Durham (born Judith Mavis Cock on July 3, 1943) was a jazz singer who became the lead singer for the Australian popular folk music group The Seekers in 1964. She left the group in late 1968 to pursue her solo career. She has performed with the Seekers a number of times in recent years, including their Silver jubilee concert tour and fund-raising events for charity.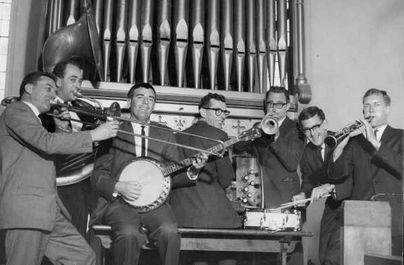 (Frank Traynor's Jazz Preachers)
During her solo career she has released a number of albums. The first, 'Judy Durham and Frank Traynor's Jazz Preachers' in 1963, it was a 4 song EP with Traynor's noted band, featuring Just a Closer Walk With Thee, Moan You Mourners, Papa De Da Da and Jelly Bean Blues. The Traynor recording of Just a Closer Walk With Thee later appeared on a mid-sixties Seekers compilation double lp called "Introducing the Seekers - Big Hits".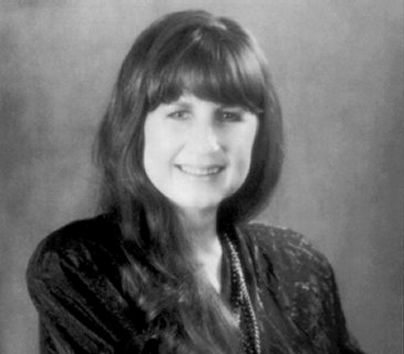 Judith's jazz career began as a shy teenager when she asked a member of the Melbourne University Jazz Band, one night at the Memphis Jazz Club in Malvern, a suburb of her home city Melbourne, if she could sing with the band. He told her to come back next week - and she was an immediate hit. By 1963 the M.U. band had been replaced at the Memphis Jazz Club by noted international group Frank Traynor's Jazz Preachers, and Judith had started singing with a folk group on Monday nights at the Toorak Rd. coffee lounge, the Treble Clef. This group was the Seekers: Athol Guy, whom Judith had met on her first day as a secretary at the J. Walter Thompson advertising agency; Bruce Woodley, who worked for rival company Clemengers; and Keith Potger, an ABC radio producer. It was through Keith Potger's position that the group was able to lay down a demo tape in their lunch hours, and it was this tape that Judith produced when W&G records, having agreed to record a Jazz Preachers album, asked for a sample of Judith's voice. W&G were impressed enough to sign the Seekers for an album, "Introducing the Seekers" (but Keith had to be replaced on the album cover by former lead singer Ken Ray because he wasn't allowed to have a second job!), as well as giving Judith the aforementioned EP. Judith recorded two other songs with the Preachers, Muddy Water (which appeared on their album "Jazz From the Pulpit") and Trombone Frankie (an adapted version of Bessie Smith's Trombie Cholly).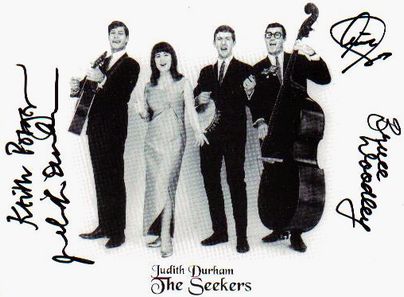 In early 1964, the Seekers set sail for England on the S.S. Fairsky when Athol Guy arranged for them to provide the musical entertainment. Originally they were to return after 10 weeks, but a steady stream of bookings, courtesy of the Grade Agency to whom they had sent a copy of their first album and their performance of Just a Closer Walk With Thee on In Melbourne Tonight, had the group staying on. In November they released a Tom Springfield composition entitled "I'll Never Find Another You", and by February 1965, the disc was number one in England and Australia.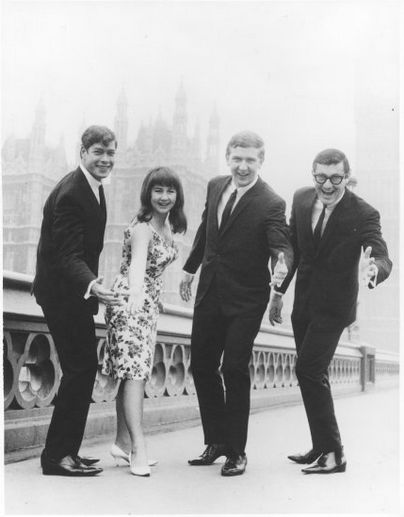 A succession of hits followed, including A World of Our Own,The Carnival is Over Georgy Girl, Morningtown Ride, and Emerald City , before Judith gave the "boys" six months notice of her intention to leave. The group split in July 1968, recording a live concert at the Talk of the Town Theatre Restaurant on Judith's 25th birthday, a BBC TV Special on July 10 (released on VHS in 1999), and made their final public appearance together for 25 years in a BBC interview the following day. The tape, unfortunately, has not survived.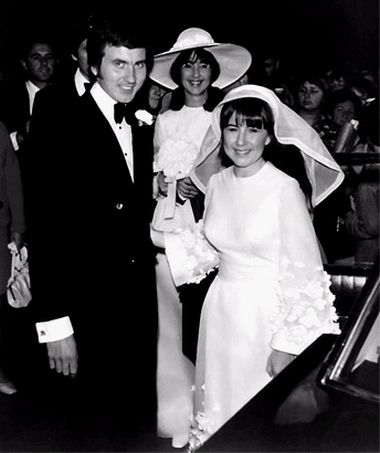 Judith returned home in August that year and her first solo television special screened on the Nine network in September. On November 22, 1969, she wed her musical director, English pianist Ron Edgeworth in Melbourne. The couple returned to England and were not to settle in Australian until the mid-80s, when they bought a property in Nambour, QLD
In February 1975, when the three male Seekers announced the group's reunion with Louisa Wisseling, Judith was completing a very successful national Australian tour with the Hottest Band in Town. A high-school principal in Bendigo initially refused to allow them to perfom in the school's hall because he felt the group's name would bring in an undesirable element who would cause havoc when they realised the music was not the rock they had been expecting, but withdrew his objection on the condition that the type of music and intended audience be well-advertised.
In 1990 Judith, Ron, and their tour manager Mike Summers were involved in a fatal car accident on the Calder Highway; the driver of the other care died at the scene, while Judith was seriously injured. The accident made her very aware of her mortality, and this, combined with the out-pouring of love and affection from fans made Judith reconsider the idea of getting back together with the boys for a one-off reunion show. In January 1993, with the group's silver jubilee on the horizon, Judith Durham: The Seekers announced their decision to get together for a reunion concert.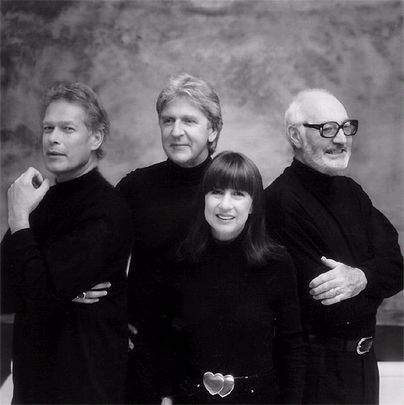 As the group rode the waves of their re-found popularity and the tour dates kept both increasing and selling out, Ron was diagnosed with motor neurone disease. His condition steadily worsened, and he passed away on December 26, 1994 with Judith by his side.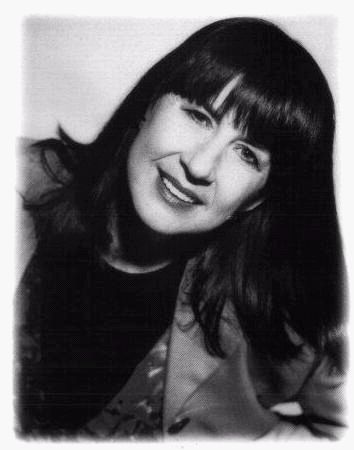 In 1996 Judith recorded an album of covers under the direction of noted producer Gus Dudgeon, Mona Lisas, which was re-released as Always There in 1998 with the addition of Judith's solo recording of fellow Seeker Bruce Woodley's I am Australian (with Russell Hitchcock of Air Supply and Mandaway Yunupingu of Yothu Yindi) and the Smith Family theme song of the title. Her recording of Always There was first released on the 1997 double cd "Anthems", which also featured Bruce Woodley's "Common Ground" and the Seekers' version of "Advance Australia Fair."
In 2000 Judith's album Let Me Find Love was rereleased as Hold on To Your Dream, with the addition of her song for Australia, Australia Land of Today. 2001 saw another Australian tour, but one of Judith's finest moments as a solo artist came in 2003, when she toured the UK in May-July to celebrate her 60th birthday. Her birthday concert at the Royal Albert Hall in London was filmed and released on DVD in late 2004.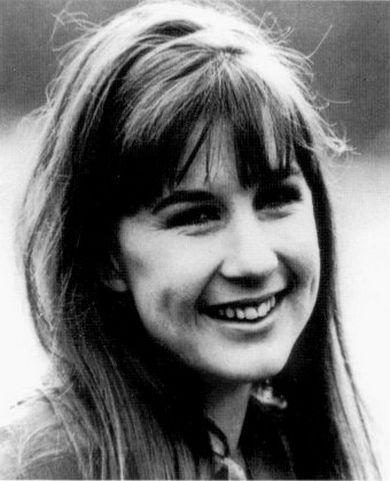 Solo Releases: 1963 Judy Durham & Frank Traynor's Jazz Preachers [EP] 1967 The Olive Tree/The Non-Performing Lion Quickstep [45] 1967 Again and Again/Memories [45] 1969 For Christmas With Love [LP] 1970 Gift of Song [LP] 1971 Clim Every Mountain [LP] 1973 JD & The Hottest Band in Town Vol. 1 [LP] 1974 JD & The Hottest Band in Town Vol. 2 [LP] 1980 The Hot Jazz Duo [LP] 1992 Australia Land of Today [CD Single] 1994 Let Me Find Love [CD] 1996 Mona Lisas [CD] 1998 Always There [CD] 2002 JD and the Melbourne Welsh Male Choir [CD] 2000 Hold on To Your Dream [CD] 2003 Diamond Night [DVD]
With the exception of the Jazz EP, the 1960s singles, Gift of Song and Climb Every Mountain, all of Judith's solo records have been re-released on CD.
She has also contributed to various compilations, including the cd single "Yil Lull", Slowly Gently for the Motor Neurone Disease fundraiser, "One Man's Journey,"Judith has also recorded 3 songs which have appeared on charity Christmas albums:-Hark the herald angels sing (1994) Bambino (1995) and O happy day (1996). most recently Judith recorded an ethnic version of the Carnival is Over with Melbourne group Inca Marca for the Melbourne Immigration Museum's compilation CD, "This is the Place For a Song."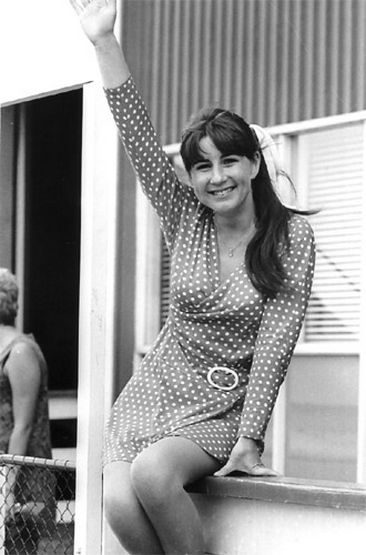 Contents of this web site and all original works are copyright ©2005 of Dennis McCarthy All rights reserved. The material on this site may not be reproduced, distributed, transmitted or otherwise used, except with the prior written permission of owner
Editor Dennis McCarthy Dip A.P.S.S. BSc(hons)
Co-editor Barbara Vining (expert in all things about Judith Durham And The Seekers)
Website Helper Sylvie Cowell (one of the most helpful persons you could ever come across)